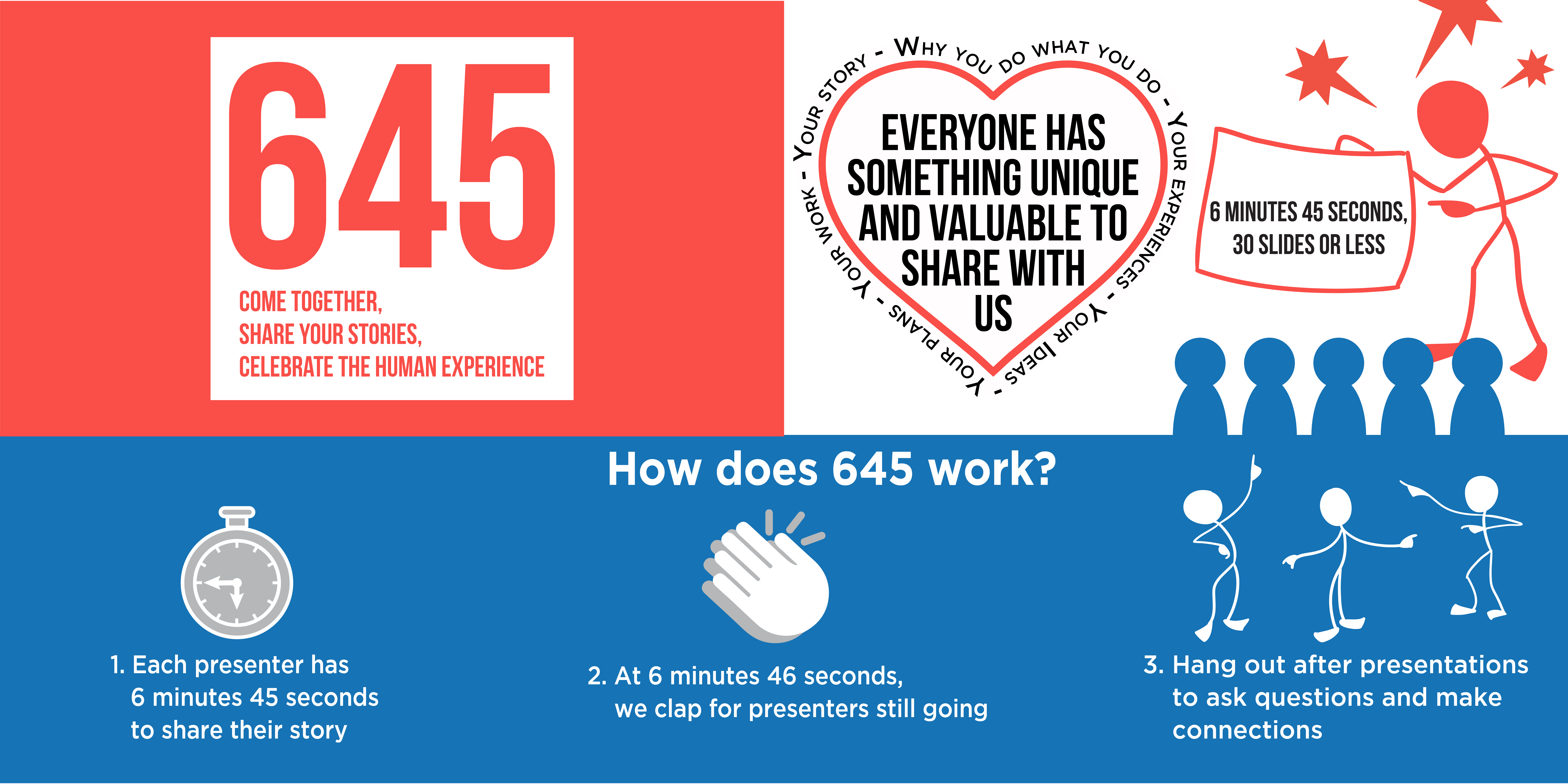 Everyone has something unique and valuable to share.

Join us for 645 at 6th Street Dive. It's FREE - there's no cover charge - and we'll have a featured cocktail especially for this event, inspired by the presentations.

We're shining a spotlight to stories of hard work, brilliant ideas, and creative projects. At 645, presenters share their stories in just 6 minutes and 45 seconds. Join us for a night celebrating the human experience and local creative spirit.
This month we're featuring:
Noah Mattern - It's All a Game
Why do we play games? Noah will expand on the purpose of play through a game piece he designed - the All-Purpose Teetotum - combining dozens of games into a single
handheld toy.
Mike Herzog - Starving for Enlightenment
What happens when you wander into the wilderness for five days, alone, with no food and no gear? You die, of course. Join us for light-hearted exploration of mortality and what you can learn from your own death.
Jessica Eise - How to Feed the World
How do we feed the world? In this presentation, Jessica presents 12 challenges we must overcome, drawing from her book "How to Feed the World," a collection of essays on food security from cutting-edge researchers.
Velocity District - How Music Works
Velocity District plays a unique mix of genres - including classic video game music, R&B, and 80s pop super hits. Sometimes the band turns into a jazz combo. Members Bonyea Killebrew, Scott Eberhard, and Alex Mason will not only entertain us, but will show us how music is composed through instrumentation!